Fall 2021 UPDATE – As you can see in our welcome home video (below), we're thrilled to have welcomed some students back this fall. However, to grow from 55 to 200 students and bring a much needed rec center to the community, we need to finish our capital campaign strong. Your support is needed now more than ever. We need some community heroes to step forward. Can we count on you?
Capital Campaign: A Community Driven Initiative

St. Francis needed to act boldly. First, because our home, the center that served hundreds of children, teens, and their families was showing its age and on its way to becoming unsafe. Secondly, and more importantly, by operating within the limitations of our home, we were leaving more and more children on the waitlist instead of welcoming them into our community. And for the children that were part of the program, the opportunities we offered were really good, but not excellent, and excellent is what every one of our children deserved. To the St. Francis family, this was not a question of simple programming and organizational performance, it was about doing all that we could for our neighborhood to build equity and address systemic educational and opportunity-based racism.

We began by seeking the perspectives of the community, parents, our Center's children, funders, partners, and elected officials. We did a comprehensive feasibility survey, as well as bid options, building concepts, and cost projections. We followed best practices matched with determination and openness. With full buy-in, we launched an aggressive, transformative, mission-aligned, $8MM capital campaign.

First Phase: Welcome Home Fall 2021
We were building a new addition for more students, additional learning and creativity space. It seemed like the whole city was behind us and all the hard work was paying off.

And then the pandemic hit… And in George Floyd, Breonna Taylor, our children witnessed the latest examples of injustice in the world they are growing up in. So the Center moved to meet those needs. We turned to support our kids and their families first. We move to virtual learning and support. We wore our masks, and kept a safe, painful distance from one another. And we marched. We raised our own voices. We lived our mission. For the campaign and our construction, we had to slow down, adjust our timeline, and put into place all safety protocols needed. Everything seemed very uncertain.
There's an old phrase that says, "Everything Feels Like a Failure in the Middle—Keep Going!" So that's what St. Francis did. Throughout 2020, the campaign continued forward. We coordinated with our construction team on the essential and critical repairs of the original home (the roof and unstable basement), then oversaw the construction of the add-on. Our campaign teams continued to engage friends and family. All told, we were able to secure $5.5MM from nearly 1,000 donors, corporations, foundations, and public agencies.

WHERE WE'RE HEADED: Final Phase 2022, $2.6MM

We begin our final phase with renewed hope. We can see the progress already completed. We are vaccinated and planning to welcome back students this fall. With grit, planning, and a larger, stronger community, our completed vision for the campaign and the organization is attainable.
With the original house stable and the new buildout completed, the final phase will help us take the original house from a completed shell to a thriving new educational home. Construct our second buildout with essential classrooms - providing capacity to welcome 125 additional children (200 at a time). Create a multipurpose room to finally give us the space to come together as a large community - celebrating graduations, organizing career fairs, student art shows, parents support workshops and events, and on and on. This phase will ensure that all of the new spaces are fully equipped - computers, educational tools, needed supplies, breakout space, study corners, chairs, desks, etc. And essential space for teachers and staff to get creative, problem solve, and make our programs even stronger.
A Little History:

St. Francis Neighborhood Center is at the heart of creating positive social change for underserved people living in Reservoir Hill & Penn North in West Baltimore. For nearly 60 years St. Francis Neighborhood Center has been providing community services, and character and education enrichment programs to the neediest children and families in Reservoir Hill, West Baltimore. The Center was founded in 1963 by Father Tom Composto, a Jesuit priest who moved into the original center and stayed the rest of his life, devoting himself to the poor.
The Center has been the only community organization in Reservoir Hill to expand its programming to meet the growing needs of a large and diverse community during these times of economic and social turmoil. Today, The Center touches more than 40,000 individuals per year in Reservoir Hill, and award-winning programs have helped to improve grades and self-esteem of Baltimore City School children who attend the afterschool and summer school programs. We can do even more.
We invite you to be a part of this transformational change. Can we count on you to join us in achieving this milestone for Reservoir Hill and West Baltimore? The end of generational poverty begins here.

---
About The Project
Pre-Phase Repair: The first phase of the project is complete! Repairs to the attic, roof, and basement have improved the indoor learning environment for youth and level of comfort for all while inside the space.

Phase I & Final Phase: Renovation & Expansion: The second phase of the project will expand the existing structure from nearly 4,000 square feet to at least 12,000 square feet. Additional space will allow the Center to serve 200 children, a 240% increase from children served today.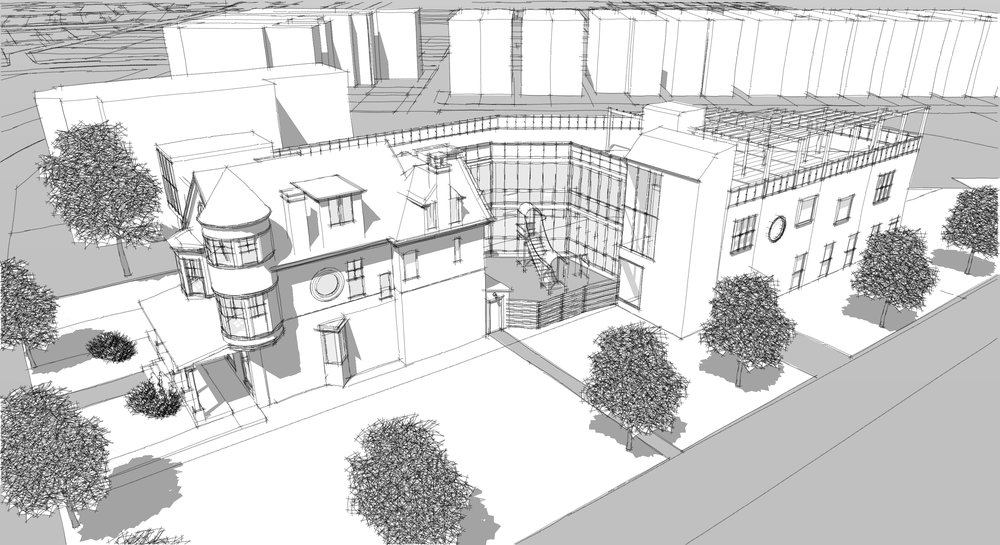 St. Francis Neighborhood Center (EIN# 52-0968759) has been the beacon of hope in Reservoir Hill for families living at and below poverty for over 50 years. We are now poised to build toward the future for another half century. We want you to join us.
We appreciate your thoughtful consideration and support to secure and strengthen St. Francis Neighborhood Center to serve individuals, children, and families who are the heartbeat of our programs.
---
Contributions are tax-deductible